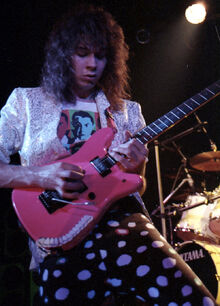 The Iba-Phones were the custom Ibanez guitars used by Paul Gilbert and Bruce Bouillet from 1986 to 1988. Modeled after Paul's 1969 Epiphone Wilshire, the guitars were produced exclusively for the two while they were sponsored by Ibanez.
Construction
Edit
The Iba-Phones were modeled after Paul's custom Epiphone Wilshire and utilized that guitar's exact body shape. The neck was a bolt-on 24-fret Ibanez neck with a matching finish on the back. The guitars had a single volume control and a Gibson-style 3-way pickup selector switch located on the right horn.
Each guitar was equipped with a Seymour Duncan Distortion in the bridge position and a Seymour Duncan Vintage Firebird in the neck position. Both pickups were wired in parallel to add treble, and Paul covered the bridge pickup on his pink Iba-Phone with aluminum tape to shield it from electronic interference. The guitars were all equipped with Kahler double-locking tremolo systems.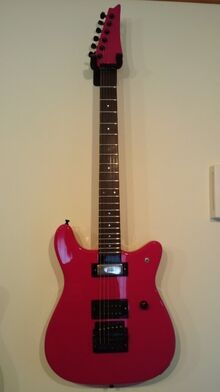 In a 1987 Anaheim clinic, Paul demonstrated that he could use the neck pickup as a 25th fret to produce a high F note.
Three of the guitars were produced: one in pink, one in orange, and one in green. The pink Iba-Phone had the band name written on the back in green text.
In footage of a 1988 Ibanez Clinic that Bruce Bouillet conducted, the company representative says that there was no chance of them ever mass-producing a similar guitar because the body shape was ripped directly from the Epiphone Wilshire and would almost certainly lead to litigation from Gibson.
Whereabouts
Edit
Paul kept the pink Iba-Phone after he left the band to form Mr. Big. Bruce, meanwhile, kept the orange one and can be seen playing it in a 1988 Ibanez clinic. The green Iba-Phone was smashed by Bruce at one of the later Racer X shows.
Community content is available under
CC-BY-SA
unless otherwise noted.